Join our team!
---
Apply now to volunteer with the Kiltwalk at our events.
Apply Now
They help our Kiltwalkers raise millions of pounds for causes all over Scotland, help deliver the Kiltwalk charity events, keep the Kiltwalkers spirits high and of course, add a touch of Kiltwalk magic!
All Kiltie Volunteers receive training and support to carry out their assigned roles and are kitted out in bright blue Kiltie uniforms provided by Official Kit Partners, Trespass.
If you would like to learn new skills, meet new people and have a truly rewarding experience, then apply to be a Kiltie Volunteer with us.
Kiltie Roles
We have an amazing selection of roles for you to choose from this year! Here you will find some information on what each role will entail and any skills/knowledge you may require.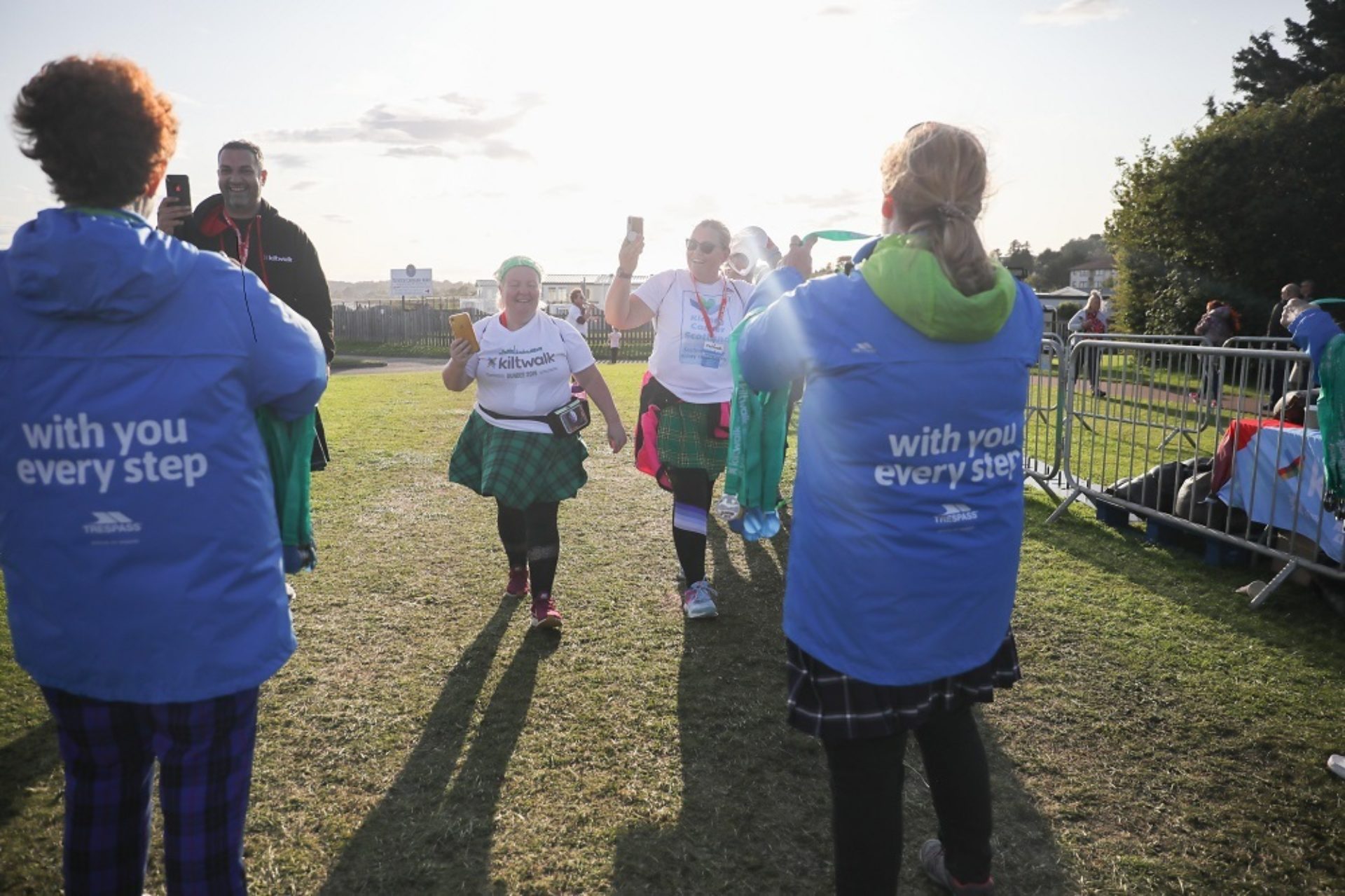 Charity Boost Programme
Thanks to Sir Tom Hunter and The Hunter Foundation, the Kiltwalk is delighted to announce that for every event a Kiltie volunteers their chosen charity will receive £15.

How does it work?
When Kilties sign up to volunteer they simply select a charity to support and every time they volunteer at a Kiltwalk event, their chosen charity will receive £15. Plus an extra £5 for every training session attended.
The Charity Boost Programme provides an opportunity for even more vital funds to be raised for charities and causes in Scotland.
With our walkers every step, the Kilties are already the backbone of every Kiltwalk event. The programme allows our volunteers to support and raise funds for a cause close to their heart while donating their valuable time to the events.
Frequently Asked Questions
Check out the answers to some of our Frequently Asked Questions about being a Kiltie
How do I apply?
Getting the Kiltie ball rolling is really very easy – all you have to do is go to our Volunteer page and click on the 'Apply Now' button. You need to answer a few basic questions – don't worry it should only take between 5 and 10 minutes.
I'm having issues with the application process?
First of all, don't panic! If you are really struggling to complete your online application, please email kilties@thekiltwalk.co.uk and one of the Kilties team will get in touch to help you.
I've forgotten my username/password what do I do?
Again, don't panic! How easy is it to forget passwords these days with so many rolling around in your head?
If you have forgotten your username or password or they don't seem to be working, simply click on the forgotten username or password link and a new username or password will be sent to you via email within a few minutes.
Can I be involved in multiple events?
Absolutely! We would be delighted to have our Kilties take part in many different Kiltwalk events throughout the year – or even all of them!
Our Kilties can come to as many Kiltwalk events as they would like, just as long as they have been given the thumbs up by our team and have self-selected the shift, role and event they would like to volunteer at. If you are doing multiple events, you still only have to do one training session.
If you are interested in doing more than one event then simply sign up for the shifts as and when they are released for the event(s) – this will happen a few weeks before each Kiltwalk throughout the year.
How long is a shift likely to be?
We really don't want to wear our Kilties out so shifts will last between 6 and 10 hours although mostly they will be around 8 hours long. It will all very much depend on the Kiltie role you have chosen to do.
Keep an eye on your emails, the shifts link will be sent out for every role to self-select across the four events.
What roles are available?
You can find a full list of the Kiltie roles here. Have a look and see which one suits you best!
Can I just show up on the day?
As lovely as it would be to have you along, sadly not.
All our Kilties are asked to attend special training days, which are a must to make our Kilties the best volunteers around. Our Kilties also need to have an insight into the Kiltwalk as a charity as well as have knowledge about the event where they will be volunteering, all of which will be revealed at the training days. These sessions are also where every Kiltie will find out all they need to know about their role on the day.
Can I bring a friend/family member to the training or on event days?
At the Kiltwalk we would love to welcome everyone along on event day and to the training, but unfortunately, unless your friend or family member is a fellow Kiltie or your registered carer, you will not be able to bring them.
What happens if I miss the training event?
All Kilties need to come to one training session for the Kiltwalk event – it's the only way to ensure everyone will have the best Kiltwalk experience possible and know everything they need to in order to be the best Kiltie they can be!
If, due to unforeseen circumstances, you miss the session please contact us.
Do I need to come to both training dates for the event I am volunteering at?
You will be glad to know our Kilties only need to sign up to one of the training sessions in the run-up to the event they are volunteering at – we like to think one session will tell you all you need to know!
Do I need to attend a training session for every event I am volunteering at?
Kilties only need to attend one training session per year. There are e-Learning modules available for Kilties to learn about the event operations for each event, usually released closer to the event dates.
What will be involved in the training for the Kilties?
Everything a Kiltie could ever possibly need to know about the Kiltwalk and about being a Kiltie will be revealed in the training sessions.
The training lasts a few hours and will go over the event, the different roles, information about the charities involved and give you plenty of time to get to know your fellow Kilties!
Where will my training take place?
Keep an eye on your emails for details about where the Kilties training will take place for each Kiltwalk event. As we want to make things as easy as possible for our Kilties, training venues for each Kiltwalk event will be in the area where the event is taking place.
Can I do different Kilties roles at different events?
We want to make the Kiltwalk experience as amazing as possible for our Kilties, which means they can sign up to different roles – although all of our Kilties will be interviewed with a particular role in mind.
Our Kilties will be able to select any of the roles they have been approved for on the system.
What should I wear on event day?
We aren't called the Kiltwalk for nothing! But don't worry, kilts are encouraged but by no means compulsory. Comfortable trousers, jeans or tartan trousers or leggings would be just as great.
All of our Kilties will also receive a uniform. If the weather is really wet, it might be worthwhile to wear a waterproof jacket underneath the Kilties rain jacket to ensure you keep dry throughout your shift. It may also be worth bringing extra layers to keep you warm throughout the day.
Should I follow tradition and be a true Scotsman on an event day?
Without wanting to fly against tradition, we need all Kilties to ignore this custom on the day of an event. You will be very active and busy, plus we really don't want to frighten anyone catching a glimpse of a wardrobe malfunction!
When do I get my Kilties uniform?
You will receive your uniform on training day.
Do I have to wear my uniform?
Yes, please make sure you arrive for each of your Kiltie shifts ready to go and dressed in your Kiltie uniform – hopefully you will feel proud to do so! If you arrive without your uniform, you may not be allowed into the venue as it is essential that all staff, walkers and spectators know who our volunteers are and can identify them across the route.
What should I do if my uniform is lost or stolen?
We are sure all Kilties will treasure their uniforms, but if it is lost or stolen don't panic – please contact kilties@thekiltwalk.co.uk with your size requirements and the Kiltwalk staff will bring additional uniforms on the day which can be borrowed. Unfortunately, as we are a charity, we do not have the budget to let Kilties keep replacement uniform items except under exceptional circumstances. If you want to make sure you go home with yours, the best thing to do is ensure your name is on all parts of the uniform so there is no confusion.
What should I do if my uniform doesn't fit me properly?
We want you to feel as comfortable as possible on event day!
If you have a problem please contact kilties@thekiltwalk.co.uk and where possible we will swap the uniform for a different size. Unfortunately, we do only have limited additional stock so the best thing to do is order a larger size than usual if there is any uncertainty on sizing at all. The uniform is provided free of charge by our amazing Kit Sponsor Trespass.
Can I wear my uniform when I'm not on shift?
Yes, the uniform is yours to keep and can be worn whenever you like outside event days. It's designed to be a memento of your time with us as a Kiltie! We just ask that before the Kiltwalk you keep your uniform safe and clean, and that you don't wear it until your first shift.
On event day your uniform should only be worn when you're proudly on duty as a Kiltie and travelling to and from the Kiltwalk event. Please also remember that when in uniform you are representing the Kiltwalk and your fellow Kilties – so no naughtiness please!
What happens to my uniform if I can no longer volunteer?
We will be very sad if this happens, but we do understand that these things happen. If you do have to give up your place as a Kiltie and you are unable to volunteer at any future Kiltwalk events, please send your Uniform back to:
Volunteer Manager
The Kiltwalk
Mercantile Chambers
53 Bothwell St
Glasgow
G2 6TS
Should I bring a packed lunch?
We will provide a sandwich or alternative for you on the day, but please feel free to bring your own drinks and snacks – it may be a long day!
What should I do if I have a dietary requirement?
All Kilties are asked for their dietary requirements as part of the application form. The Kiltwalk will aim to cater for everyone's needs on training days as well as event day itself.
What time do I need to arrive for my shift?
Our Kilties shift start time is the time that their event day briefing will begin. Please make sure you are checked-in and are raring to go by this time. It is best our Kilties give themselves 30 minutes to get on site and be checked-in, this will mean everyone is ready and raring to go by the time the briefings start.
What if I can't make my shift on time or have to leave early?
Please contact the Kilties team at kilties@thekiltwalk.co.uk if you are unable to make it to your shift on time so we can make the necessary arrangements to cover your post.
What should I do if I am unwell and can't make a shift?
If you're unwell and can't make it for your Kilties shift, please don't worry – the most important thing is to recover. Just contact the Kilties team at kilties@thekiltwalk.co.uk as early as possible. This allows us to make the necessary arrangements to fill your post.
Our Kilties can cancel their shift on the system up to 48 hours before an event. Any cancellations made under 48 hours will have to be emailed to the Kilties team at Kilties@thekiltwalk.co.uk
If my shift is finished, can I stay and help out?
We would be delighted if all of our Kilties decided to stay on to cheer on the walkers at the finish line once their shift is finished – as far as the Kiltwalk is concerned it is 'the more the merrier' when it comes to creating a party atmosphere.
If my shift is finished, can I enjoy the Kiltwalk festivities at the finish line event?
Of course all Kilties are more than welcome to stay after their shift to enjoy the fun at the finish line, but please remember to bring a spare change of clothing to wear after your shift. We are not being spoil sports but Kilties are not allowed to consume alcohol with their uniform on.
How do I select a shift?
It's really easy for our Kilties to select the shifts that suit them, just follow the simple steps below:
Sign in to your kilties homepage at: https://app.betterimpact.com/Login/
Go to the 'sign-up tab' and click on the shift that you would like to select.
Click on the empty box next to the shift you would like to select (Under the sign-up column).
Press Save
Press Confirm
You have now selected that shift and should be able to view it on your homepage.
How do I log hours?
Log your hours in your kilties homepage at: https://app.betterimpact.com/Login/
Go to the 'Hours log tab'.
Choose the shift (activity) you are logging hours for
Choose the date for the shift that you completed
Insert the hours and minutes that you were on shift for
Press Save
You have now logged the hours that you had performed.
Can I do different roles throughout the day?
It's really important everyone sticks to the role they have selected on the day in order to ensure everything runs as smoothly as possible on the day. Although, if for whatever reason, some Kilties are unable to make it for their shifts then the Volunteer Manager may ask some Kilties to take on different roles to make sure every area of the event is properly covered and everyone has as great an experience as possible.
It is worth noting that our Kilties can swap between the roles they have been selected for at each of the different events – once the shifts have been uploaded Kilties can self-select, but bear in mind it is first come first served!
Should I bring a packed lunch?
We will provide a sandwich or alternative for you on the day, but please feel free to bring your own drinks and snacks – it may be a long day!
Are there other shifts on non-event days that I could be involved in?
We would be delighted if you would like to help outside of event days!
We have additional support and marketing activities as an option for you to select in your volunteer portal if you wish to be contacted for these opportunities. Help from volunteers will also be really important during the set-up of the Kiltwalk events – these shifts will also be available on the website for our Kilties to sign up for.
Will I be entitled to breaks during my shift?
We know Kilties work hard and we want everyone to have a great experience on Kiltwalk day and have the energy to last a whole shift, so everyone will get regular breaks for rest and refuelling!
Kiltwalk staff will rotate their Kilties throughout the shifts to make sure everyone gets the chance to put their feet up.
Can I swap my role if I don't like it?
Kilties will pick the roles they would like to do online from a range of options open to each Kiltie when they log in to sign up for their first Kiltwalk event. However, once our Kilties have opted for a role, unfortunately they will not be able to change. Remember though, all Kilties will be able to choose a different role at the next event they sign up for online and when the role and shift is available. If it's variety you are after then the best way is to sign up for more than one event!
Feel free to contact the Kilties team on the roles available to help you choose the one best suited to you.
Are there any transport provisions for the Kilties on event days?
Kilties will need to find their own way to their meeting point for their given time. We will provide transport to give all tired but happy walkers and Kilties a return journey to their check-in location if they require it.
What support is available for the volunteers on event days?
We're here to answer any questions or concerns you have about your role supporting the Kiltwalk. If you're not sure about anything and need some help – just let us know by emailing kilties@thekiltwalk.co.uk. On event days all of our Kilties will be supported by our Kiltwalk staff members who will answer any questions and provide assistance when needed.
Do I have to be careful what I write on social media about the Kiltwalk or Kilties?
There is a social media policy for all of our Kilties and it is really important that all volunteers adhere to this. If you are unsure about this, please contact kilties@thekiltwalk.co.uk for further information.
We're not looking to stop you from sharing your Kiltwalk experience, but we will ask you to agree to some sensible standards. For example, not posting anything bad about the Kiltwalk or Kilties programme online as it can ruin it for everybody! If you find yourself with any downtime in your Kiltie role, please feel free to tweet about the action!
You can download a copy of the Kiltie Social Media Policy here.
What should I do if I am approached by the media at all?
Please refer any media queries to Susanne Morrison at susanne@thekiltwalk.co.uk or Gillian Alexander at gillian@thekiltwalk.co.uk. We ask you do not speak to the media without permission from the PR team at the Kiltwalk.
How to apply
---
Becoming a Kiltie is very simple and straightforward. We want to make sure from start to finish the whole journey is as easy and accessible as possible.
Apply Now
Please follow our step by step guide below and you'll be on your way of being a Kiltie!
Sign up:
Click "Apply Now"
Create your username and password for your volunteer profile
(Keep a note of this information, it is how you will be able to access our online volunteer portal to carry out training, view available shifts and sign up for your preferred role and shift)
You will receive an acknowledgement email to confirm your application had been submitted and we will be in touch with you shortly
 Your application is now being processed
The volunteer team will review your application and select the most suitable role for you based on the information you provided
You may receive a telephone call to go over your application in more detail. This will be a very informal chat regarding your role on the day
If successful, you will receive an email confirming you are now an official Kiltie!
Woohoo! You're now an official Kiltie!
You will now be able to access available training and sign up for your shift on event day via the volunteer portal
It is compulsory that volunteer attend at least ONE face-to-face training session per year.  This is where you will receive your Kiltie uniform, training on your role and an operational run through of the Kiltwalk Events.
Finally, it's event day! Full of excitement and knowledge…the fun is just about to begin!