£42.5 MILLION RAISED FOR 3,300 CHARITIES IN 8 YEARS
Kiltwalk is Scotland's largest mass participation walking event with over 145,000 people taking part since 2016.

The kind-hearted Kiltwalk community have taken big strides for charities close to their hearts and together with The Hunter Foundation, have managed to raise a staggering £42.5 million to date. All funds raised have been distributed to 3,330 Scottish Charities.

The Kiltwalk fundraising model ensures all fundraising goes to your charity PLUS all eligible Gift Aid (up to 25% extra*). Find out more about the new 2023 fundraising model here.

*Your selected Charity is responsible for any eligible gift aid on your fundraising. For more information on Gift Aid declaration please visit www.gov.uk/claim-gift-aid/gift-aid-declarations

THE KILTWALK STORY
Read through the Kiltwalk timeline since the relaunch in 2016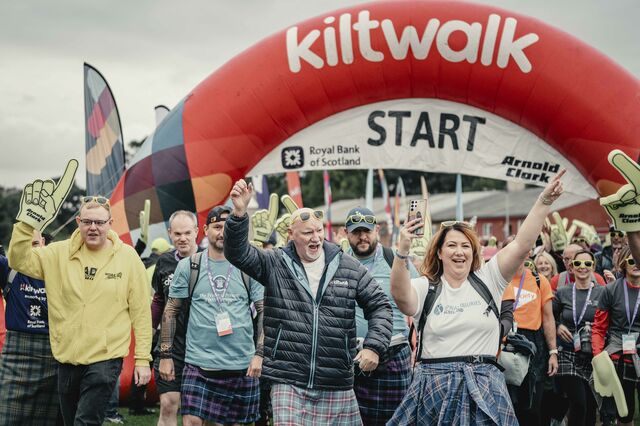 2023
Kiltwalk celebrates its BIGGEST EVER year with record-breaking numbers taking part across the country. A staggering 27,500 Kiltwalkers took part in events across Glasgow, Aberdeen, Dundee and Edinburgh raising a total of over £5.1 million for 1,550 Scottish Charities.
Kiltwalk slashed entry fees to £20 in response to the ongoing cost of living crisis and updated the fundraising model so that all funds now went directly to walkers chosen charities. This meant Charities received funds faster than ever before and could claim up to 25% extra in Gift Aid on all fundraising. This has all been made possible thanks to Sir Tom Hunter and The Hunter Foundation, who underwrites Kiltwalk, and Kiltwalk's amazing sponsors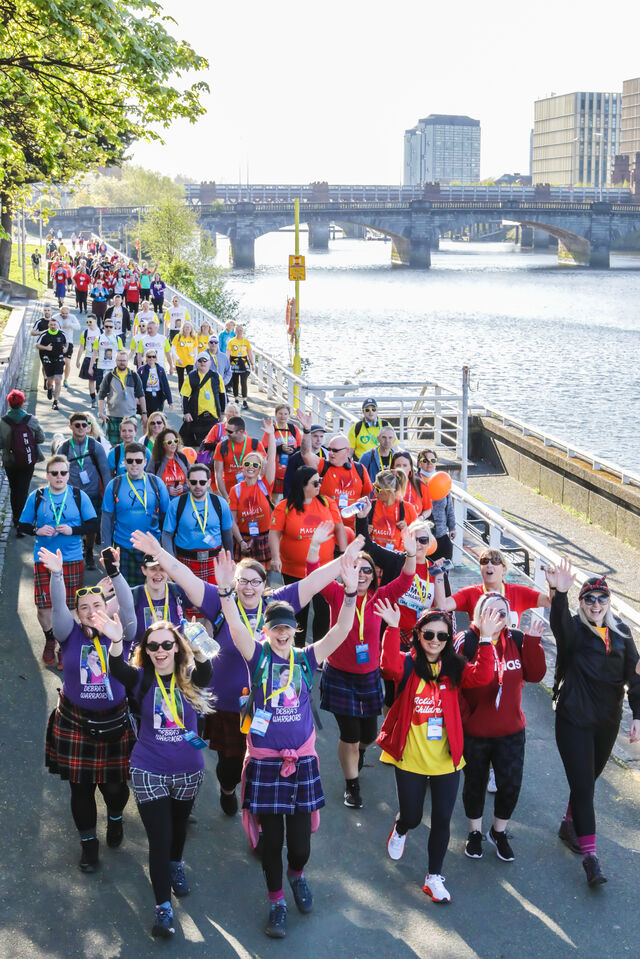 2022
The first full year of Kiltwalk events after the pandemic and the Kiltwalk community was back with a bang! 19,534 took part in Kiltwalks in Glasgow, Aberdeen, Dundee and Edinburgh raising a jaw dropping £5.3 million which was topped up by a very generous £2.7 million from The Hunter Foundation. A total of £8 million was distributed just days after each event to 1,261 different Scottish Charities.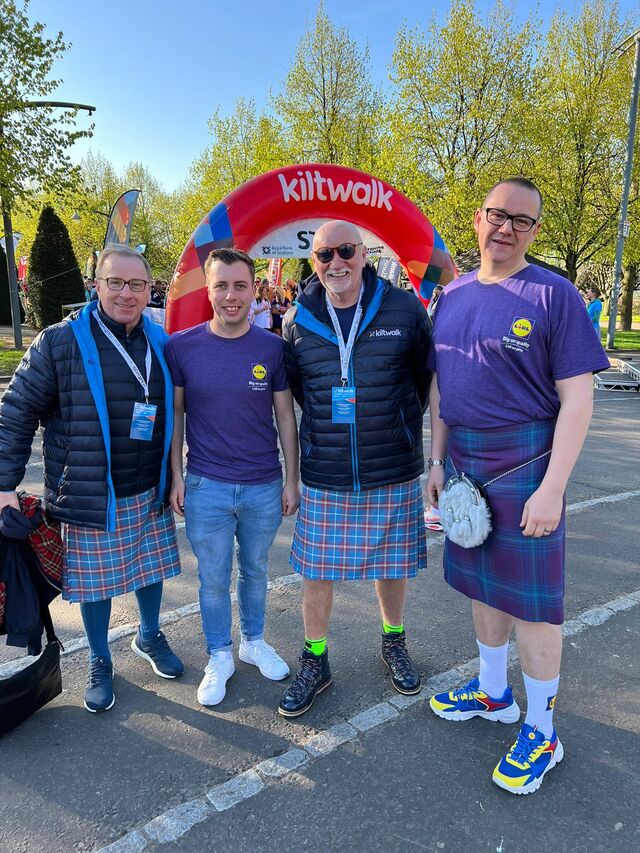 Kiltwalk just got a Lidl bit better!
In early 2022, big-hearted supermarket giant, Lidl, stepped in to become Kiltwalk's Official Supermarket Partner and now provides thousands of delicious snacks to fuel Kiltwalkers at all Kiltwalk events.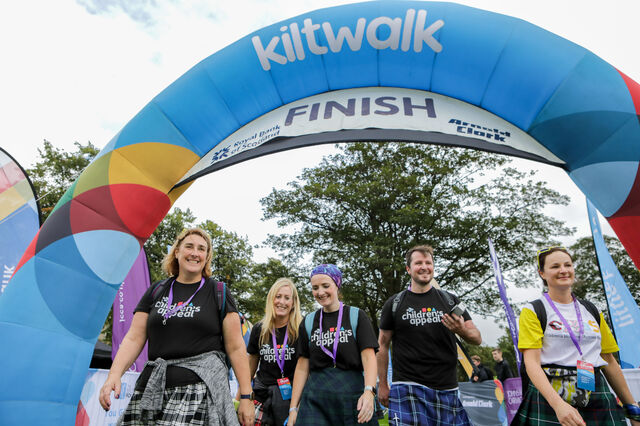 2021
In 2021 with the world still dealing with the COVID pandemic, Kiltwalkers proved that "nothing stops Kiltwalk". It was another record-breaking year with an astonishing £8.4 million raised for 1,270 Scottish Charities.
On 23-25 April, the biggest and best ever Virtual Kiltwalk took place across Scotland and attracted 11,000 Kiltwalkers who took on their own walking, running, jumping challenges in support of a charity close to their heart. They raised an incredible £4.1 million which Sir Tom Hunter boosted by 50% to £6.1 million.
On 26 September Scotland's Kiltwalk was held in Glasgow for the first live event since the pandemic with over 4,000 Kiltwalk heroes taking part and raising much needed funds for nearly 500 Scottish Charities. Kiltwalkers themselves raised a whopping £1.1million and Sir Tom Hunter and The Kiltwalk surprised Kiltwalkers and their charities with a 100% boost on all fundraising. The year closed with the record-breaking total of £8.4 million for over 1,270 deserving Scottish Charities.
2020
The Covid-19 pandemic meant that all four of Kiltwalk's planned events, in Glasgow, Aberdeen, Dundee and Edinburgh had to be cancelled. However …nothing stops the Kiltwalk! Kiltwalkers all over the country showed their kindness once again, with many taking part in virtual events to support their chosen charities.
Despite having no live events, Kiltwalkers still dug deep for their chosen Charities. Glasgow's Kiltwalkers raised £735,000 to boost the coffers of 540 Scottish charities and, in an unprecedented move, Sir Tom Hunter DOUBLED that total to £1.47 million.
Sir Tom went on to repeat that generosity and doubled the funds raised by the 1,300 Aberdeen walkers who had signed up for the event from £150,000 to £300,000.
In August, the Kiltwalk's first Virtual event went ahead with the Dundee Virtual Kiltwalk, where Kiltwalkers came together virtually to raise over £300,000, which Sir Tom Hunter once again doubled to over £600,000.
The 2020 Virtual Kiltwalk Weekend replaced the planned Edinburgh event in September and saw Kiltwalkers all over Scotland take part. Participants raised an incredible £1.3 million and Sir Tom Hunter said: "As the numbers were coming in last night, we said if you can do £1.3 million, then we'll do £1.3 million, so it's a 100% top-up from The Hunter Foundation this morning, because we just think you're amazing." With this surprise top up, over 535 Scottish Charities benefited from the £2.6 million fundraising boost.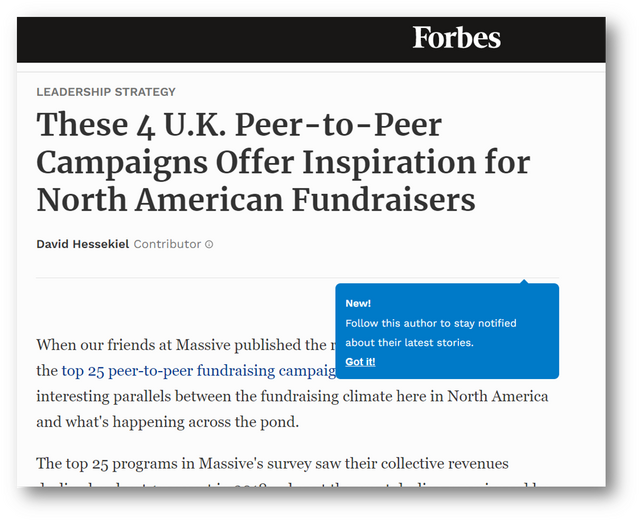 Forbes magazine share Kiltwalk success
Forbes magazine (Aug 16, 2019) highlighted the Kiltwalk as an example of Peer-to-Peer fundraising in Britain which the US market could learn from.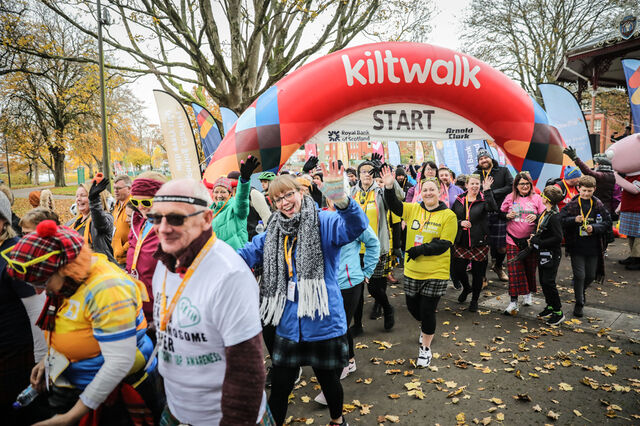 2019
Kiltwalk had its best year to date with 25,417 walkers who raised £5 million plus £2 million top-up from Sir Tom Hunter, raising a total of £7 million for 1,302 charities all over Scotland.
A new Pop-Up event was added, the 6-mile Dumfries Kiltwalk in November, where 500 local heroes walked and raised over £31,000 of much-needed funds for 83 charities.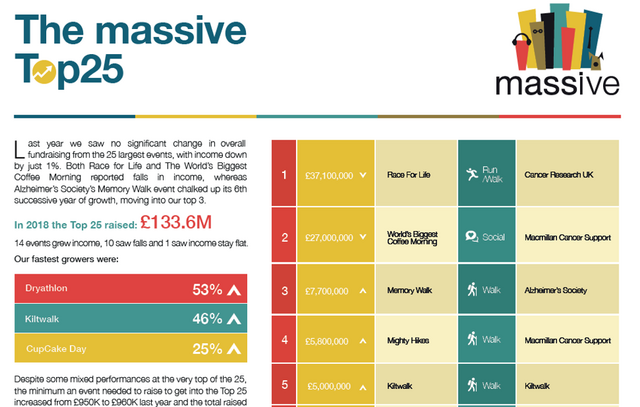 Kiltwalk named 5th biggest UK fundraising event
With Kiltwalk fundraising and walker numbers rising rapidly, Kiltwalk jumps to 5th biggest fundraising event in the UK according to the Top 25 Massive events report, a significant jump of 20 places in just 2 years.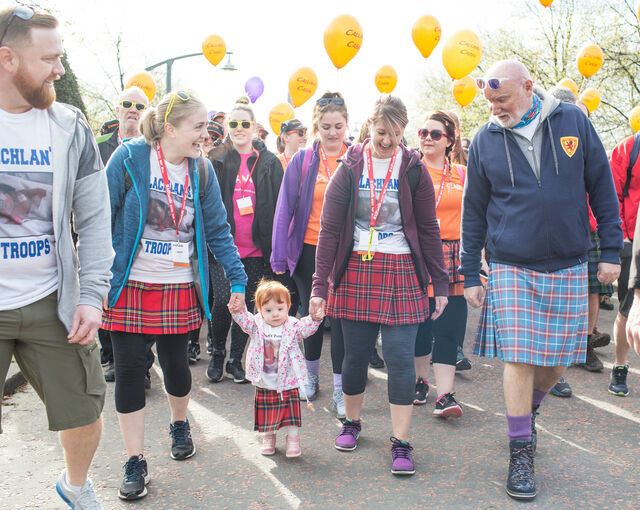 2018
Kiltwalk continues to grow with 20,000 walkers taking part, raising an astonishing £3.6 million for 1,156 charities, plus the 40% top up, £1.45 million – a record-breaking £5.85 million.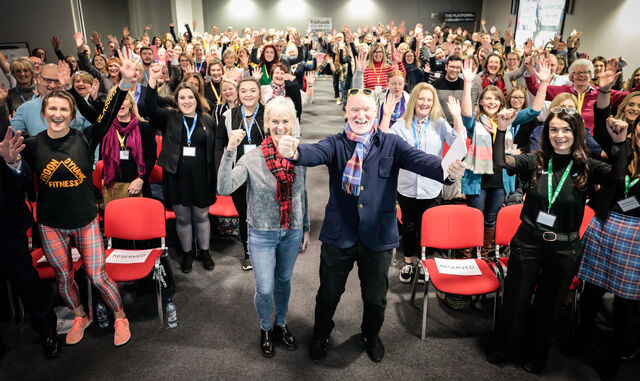 Judy Murray OBE joins the Kiltwalk Board
Judy is one of Scotland's best-known faces: popular tennis coach, mother of tennis Grand-Slam superstars Andy and Jamie Murray and star of Strictly Come Dancing! After leading-off and loving the Edinburgh Kiltwalk, Judy agreed to join the Kiltwalk board of Trustees in January 2018.
Joanna Lamb inspires Kiltwalk crowds at Edinburgh
Joanna Lamb was an inspirational young woman who raised massive awareness for young cancer patients through her fundraising for It's Good 2 Give Charity. We remember when Joanna addressed the Kiltwalk Mighty Striders at Kiltwalk 2018 in Holyrood just months before she passed away from terminal cancer. Her unstoppable drive and passion for fundraising inspired the crowds as she told them about how they had supported her through the most difficult stages of her cancer treatment.
Her mother works at the Royal Bank of Scotland and they assembled a huge team of Kiltwalkers to support Joanna's cause who raised a phenomenal £50,500 (£36.1k raised by her team, and £14,400 amount topped up by The Hunter Foundation).
Joanna's impact and legacy lives on, her Kiltwalk fundraising went towards the recruitment of two psychology consultants at NHS Lothian who support the mental health of new diagnosed young cancer patients, something Joanna recognised would create positive change to those in a similar position to her.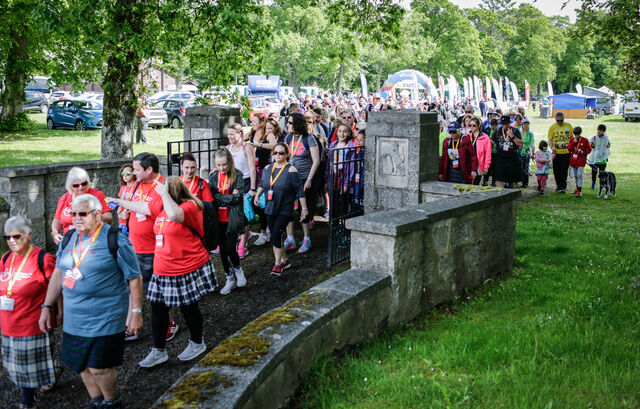 2017
Walker numbers rocket to 14,000 and they raised £1.94 million plus £720,000 from The Hunter Foundation – a total of £2.66 million for 700 charities and Kiltwalk jumped to 14th largest mass fundraising event in the Top 25 Massive events report.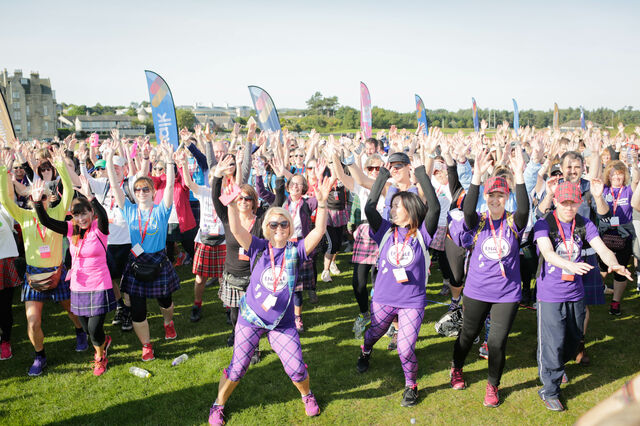 Kiltwalk opens up to ALL charities
Sir Tom Hunter surprised the Third Sector and the wider public with the news that every charity in Scotland could take part and benefit from the Kiltwalk. With a significant twist; The Hunter Foundation would add 40% to all fundraising. This game-changing news allowed Kiltwalkers to rise to Sir Tom's challenge of raising £10 million within five years, with two years to spare!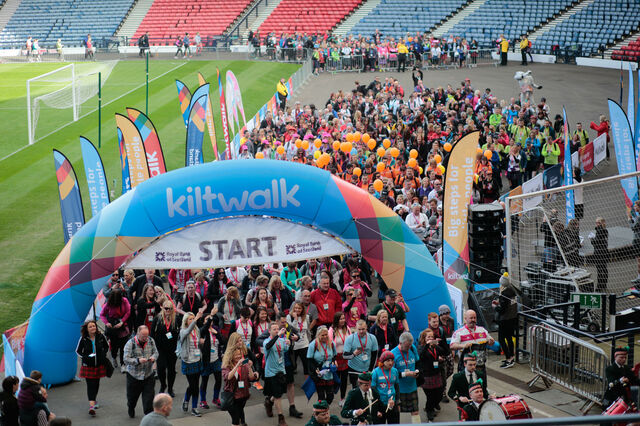 2016
Glasgow Kiltwalk sets off putting its best feet forward for Scotland's bravest children and leaves from Hampden Park on April 24 with 4,001 heroes. Aberdeen, Speyside and Edinburgh events follow and 7,300 Kiltwalkers raise £800k for 299 Children's Charities.
Meanwhile, the Kiltwalk received celebrity support from some of Scotland's most loved faces including Kevin Bridges, Lorraine Kelly, Gerry Butler, Judy Murray, Take That, Thierry Henry and many more including ITV's Hollywood correspondent, Ross King and Sky's Mr Transfer Deadline Day, Jim White.
Scotland's leading brands step in: The Royal Bank of Scotland, Arnold Clark and Chartered Accountants, Johnston Carmichael came on board to help make Kiltwalk's ambitious mission to help Scotland's Children's Charities a reality.
The Kiltwalk was ranked No. 25 in the UK's "Top 25 Massive Charity Events" list.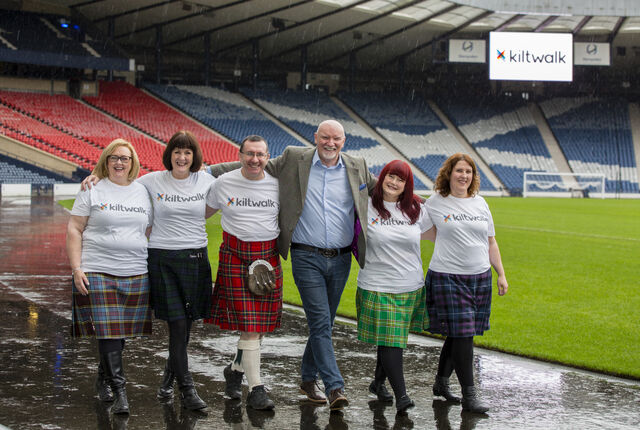 The Hunter Foundation rescue Kiltwalk
In 2015, Philanthropist Sir Tom Hunter and The Hunter Foundation rescued the much loved Kiltwalk events and constituted a new Board of Trustees. Soon after, they appointed award winning radio and TV broadcaster, Paul Cooney, as CEO who put in place a new senior management team to ensure the smooth running of Kiltwalk.
A new fundraising model is implemented to ensure every penny, every pound of fundraising goes to charity.
This year's events attracted 7,400 Kiltwalkers and raised £860,000 for children in Scotland.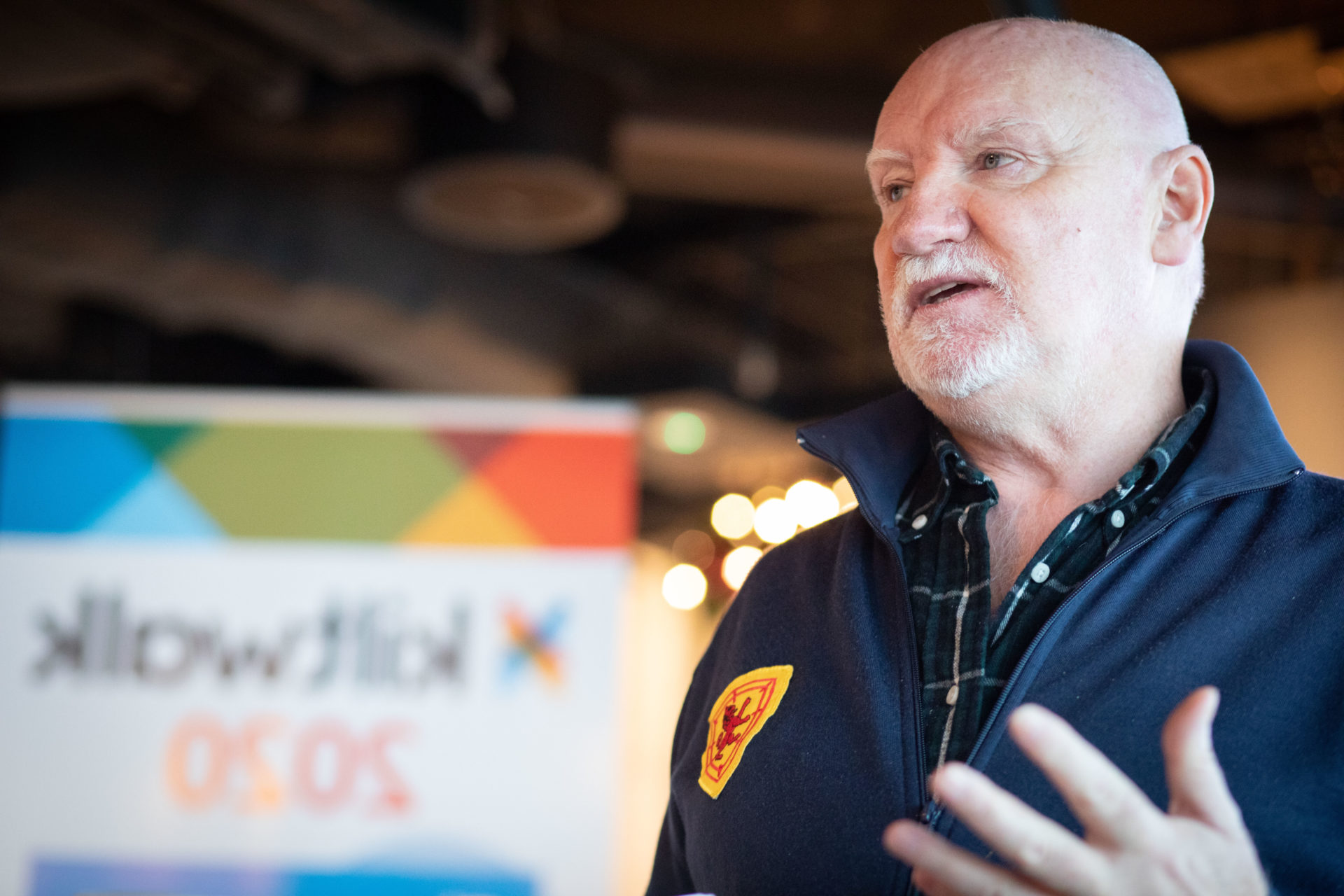 Sir Tom Hunter
West Coast Capital and The Hunter Foundation
Sir Tom Hunter is a seasoned entrepreneur and philanthropist. Tom made his first fortune when he sold the sports retail chain he built up from scratch, Sports Division, for £290m in 1998.
He set up his private equity business, West Coast Capital in 2001 and combined this opportunity with a significant commitment to philanthropy, having invested in excess of £50m to date into social causes through The Hunter Foundation.
Tom sits on the Presidential Advisory Council for President Paul Kagame of Rwanda. Tom was knighted in 2005 for services to entrepreneurship and philanthropy and was awarded the prestigious Carnegie Medal of Philanthropy in 2013.
Behind the Kiltwalk
The Kiltwalk is governed by a board of Trustees and powered by The Hunter Foundation. Find out more about the people behind the Kiltwalk Fundraising Platform.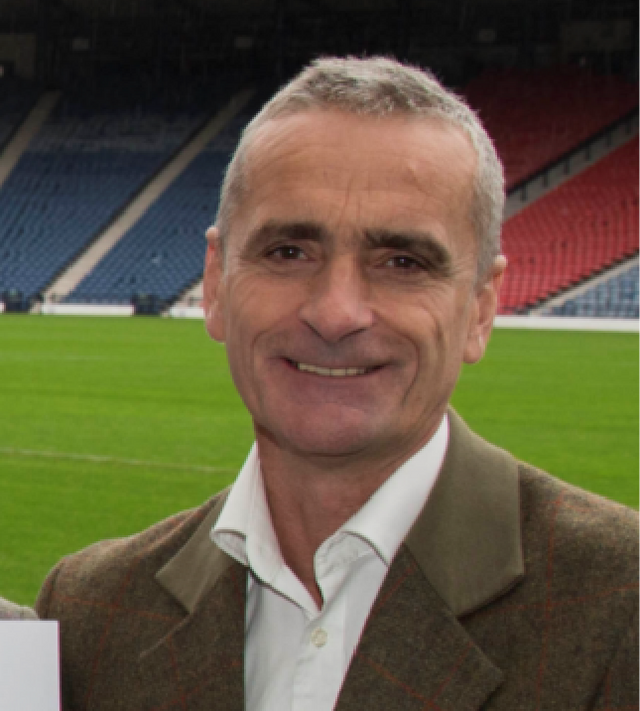 Ewan Hunter
Kiltwalk Chairman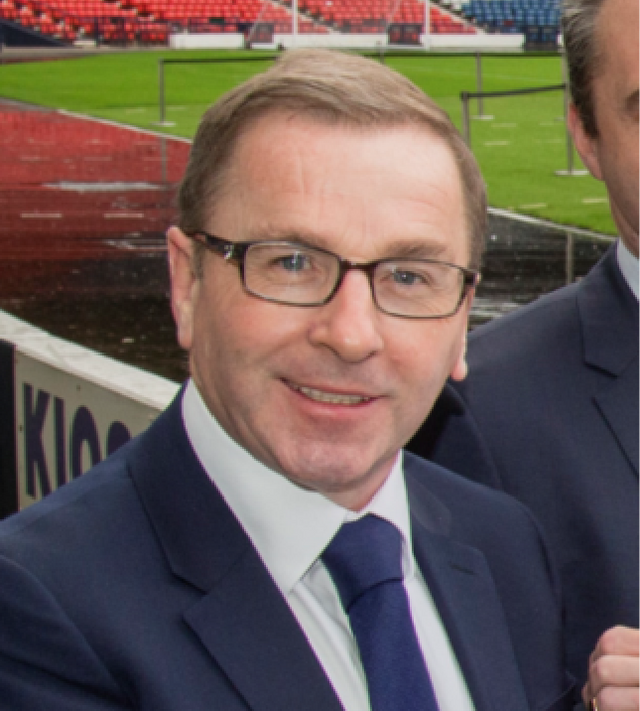 Paul Cooney
CEO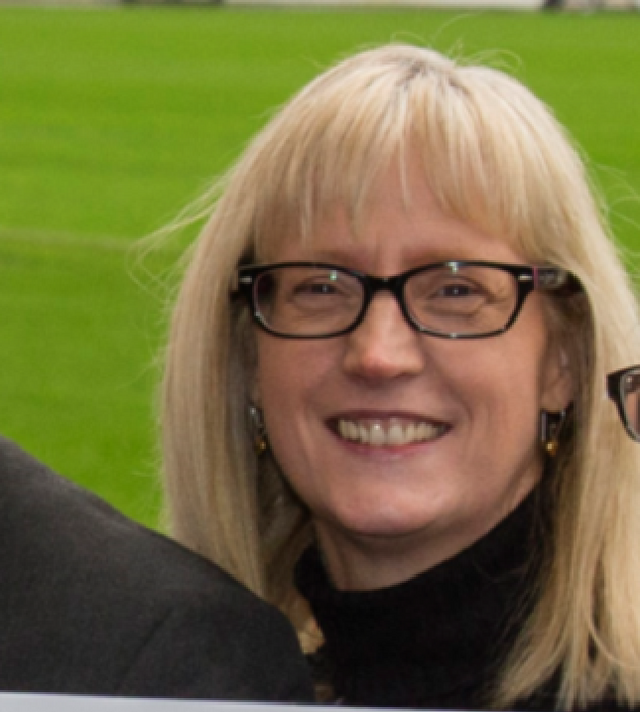 Lynn Hendry
Advisor to the Board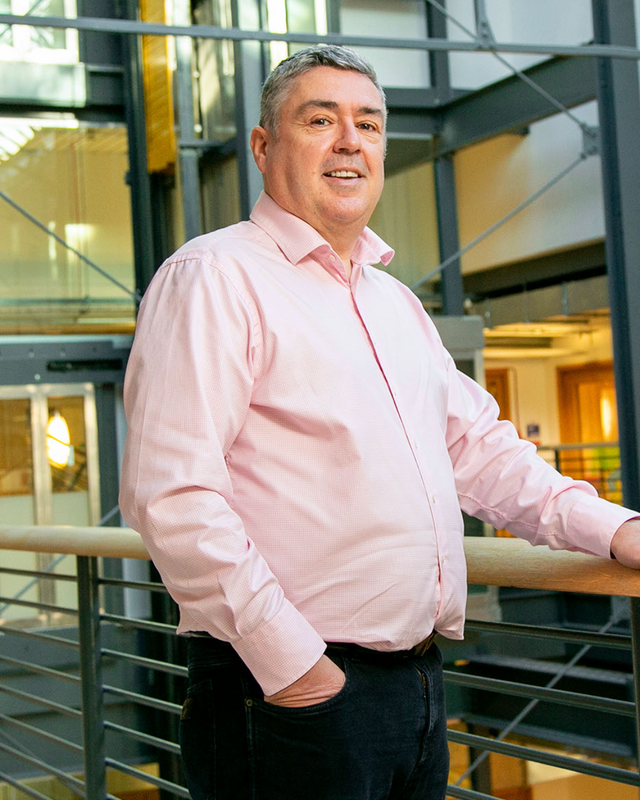 Sean Tracey
Trustee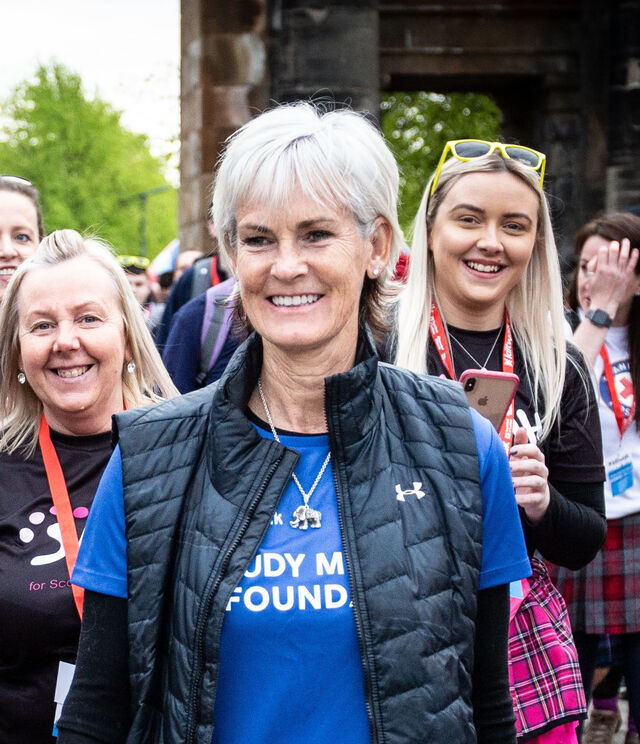 Judy Murray OBE
Trustee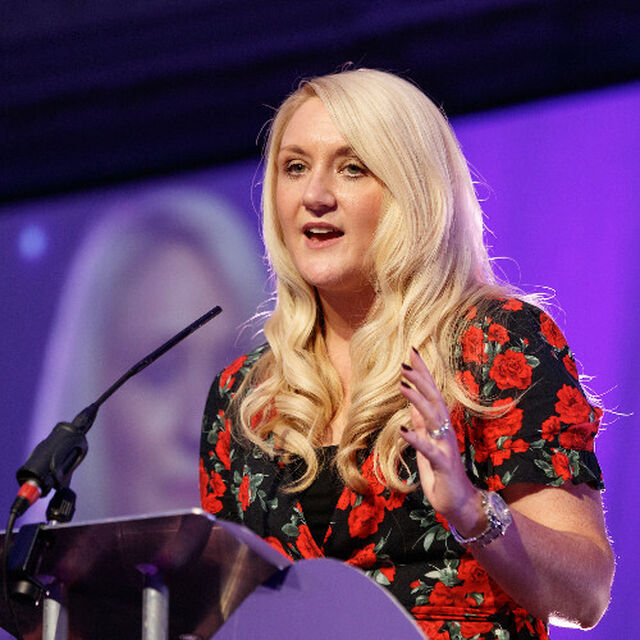 Kirsten Watson
Trustee
Current Vacancies
---
Thank you for taking an interest in working at the Kiltwalk!
Sorry, we currently have no vacancies. Please keep checking this page for updates.
If you would like to get involved in the Kiltwalk, why not apply to be a Kiltie Volunteer.