---
Pavements and pathways across Aberdeen's City and Shire were a sea of tartan today as a record-breaking 3,500 Kiltwalk Heroes stepped out for 400 Scottish charities, in what was the biggest ever Granite City Kiltwalk to date.
Big hearted Kiltwalkers lined up to take part in two routes: the 18-mile Mighty Stride, which left from Duthie Park in Aberdeen at 9am, before finishing at Bellfield Park, Banchory and the 4-mile Wee Wander from historic Crathes Castle at 11am to Bellfield Park.
Charities were out in force to cheer on walkers and provide a much-needed morale boost including Pit Stop Partner SAMH. The mental health charity also aimed to raise awareness of their services to help people through the cost-of-living crisis.
Senior Fundraising Manager at SAMH, Shona Langlands, said: "The team from SAMH had a wonderful time at Aberdeen Kiltwalk. It was extremely rewarding for our supporters to meet walkers raising funds for us and hear their stories about why they were getting behind Scotland's mental health charity. Being physically active in the outdoors in this lovely weather is also a great way to boost mental health.
"From everyone at SAMH, a huge thank you to our supporters - the need for our life-changing services continues to grow and your support is helping us transform lives."
Among the walkers was Dons legend Russell Anderson, a former captain at Aberdeen FC and Scotland internationalist. Russell was raising funds for the Russell Anderson Foundation, which he established in 2012 to help improve the health and wellbeing of children in socially deprived areas across the Granite City. Joining him were STV stars Gordon Chree, Andrea Brymer and Chris Harvey.
This year the entry fee for the Mighty Stride was reduced by 37% from £32 to £20 to make Kiltwalk, which is underwritten by The Hunter Foundation, as accessible as possible amid the cost-of-living crisis. Every penny raised goes directly to the charities chosen by the walkers plus they can claim Gift Aid which can raise the totals to 125% of everything raised. Kiltwalk has raised and distributed £37 million to over 3,000 charities in the last seven years.
Sir Tom Hunter said: "Today's Aberdeen Kiltwalk will help 400 different Scottish charities, the biggest in one day. The efforts of our 3,500 walkers will make a massive difference to people who need it so much. It's astonishing! The Kiltwalk community in the north east has done us proud.
"At a time when the cost-of-living crisis is taking a terrible toll, it's important that so many people have come out and walked and donated for those who need it most. I'd like to thank each and every one of our walkers and their supporters for their enormous Kiltwalk kindness."
The 2023 Kiltwalk is once again supported by headline sponsors Royal Bank of Scotland, and Arnold Clark.
This year, Royal Bank of Scotland has facilitated additional sustainability measures, funding fully compostable food cartons to ensure zero-waste to landfill, and Arnold Clark is giving away £30,000 to a lucky Kiltwalker to be spent on a dream car.
Gary Clacher, Regional Director for Commercial Mid Market in Aberdeen, said: "The Aberdeen Kiltwalk makes such a positive difference to communities across the North East, helping organisations and charities thrive.
"Royal Bank of Scotland is proud to be a headline sponsor and once again our colleagues have been delighted to not only support and volunteer, but have enjoyed taking part and fundraising too.
"It is great that this year we've also taken steps to help assist in making it a more sustainable event, working with the Binn Group to assist in the clear-up operation and to provide fully recyclable meals for every person who crosses the finish line.
"The turnout has been great and the generosity of those who have donated or fundraised will be felt by those who need it most in Aberdeen."
Gold sponsor Johnston Carmichael provided some very special entertainment including tartan clad Stilt walkers who helped welcome 3,500 heroes cross the Kiltwalk finish line in Banchory.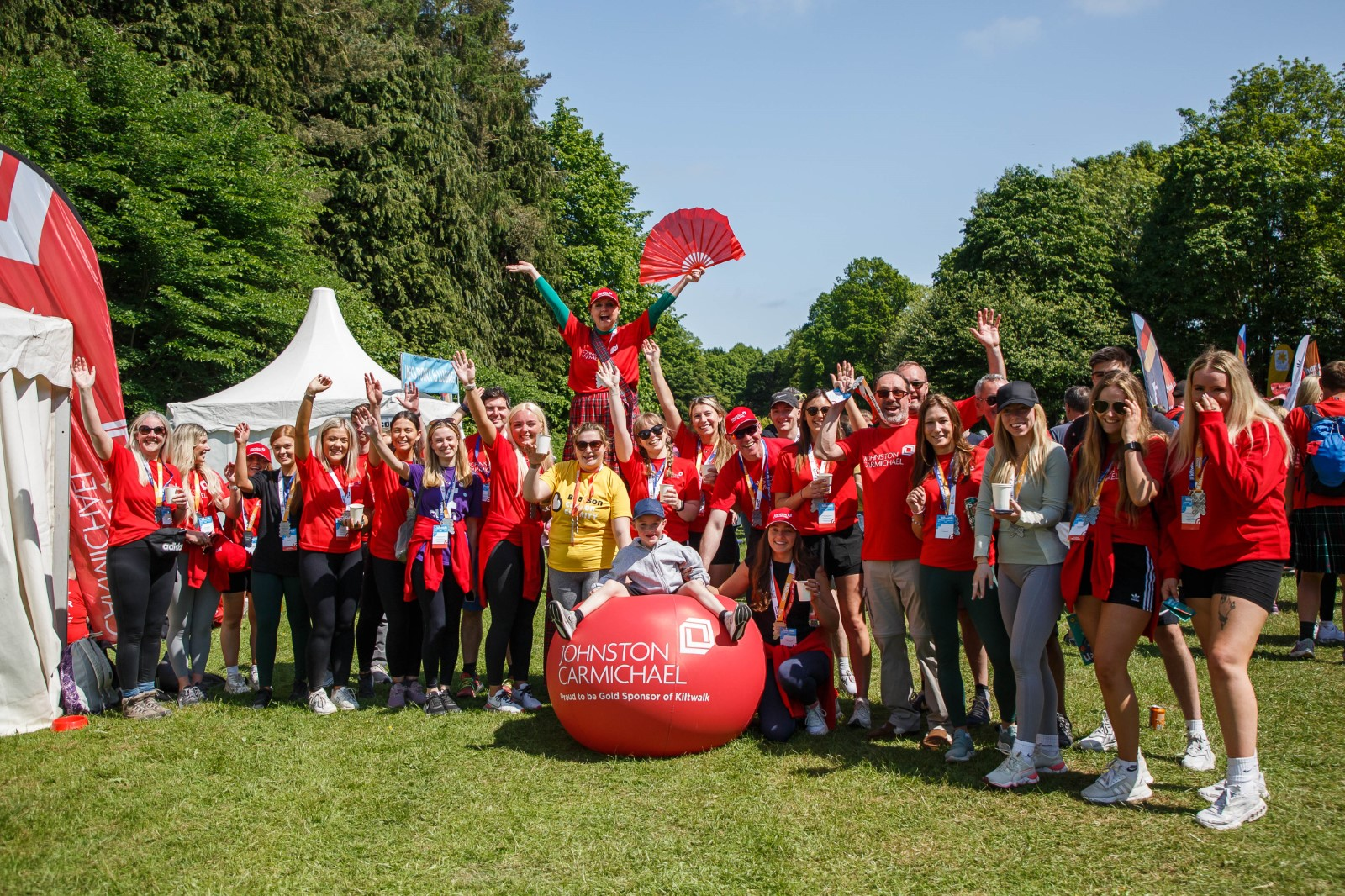 The next Kiltwalk will take place in St Andrews to Dundee on 20 August followed by Edinburgh on 17 September.
ALL FUNDRAISING GOES TO THE CHARITY OF YOUR CHOICE
Thank you for your Kiltwalk Kindness.